Ad Disclaimer
Ad Disclaimer!
COBS is an affiliation website. We help you find gambling sites where you can play with real money.
Many or all of the products and brands featured here are from our partners who compensate us. This may influence how the product or brand appears on a page. However, this does not influence our evaluations. Our opinions are our own.
The information on this page, including operator and game details, is updated regularly but subject to change.
In the fast-paced world of sports betting, bookmakers are constantly introducing new and exciting features to enhance the betting experience for their customers. Early payout betting is one such game-changing innovation that has taken the UK betting scene by storm. It offers an enticing opportunity for bettors to secure a win before the final whistle is blown, granting them an advantage like never before.
Imagine this scenario: The team you have backed is dominating the game, and they go two goals up against their opponents. Historically, this would be the point where you'd be nervously watching the clock, hoping for the final whistle to arrive without any late-game surprises. But with early payout betting, you can lock in a profit and breathe easy, regardless of what happens next. But it should not be confused with cash out betting.
We will take you through early payout betting when a team goes 2 goals up. We'll explain the concept in detail, dive into the advantages it offers, and provide you with valuable tips to maximize your chances of success.
Whether you're a fan of football, basketball, NFL betting or any other sport that offers early payout options, this guide will equip you with the knowledge and strategies to make the most of this betting feature.
What is Early Payout Betting?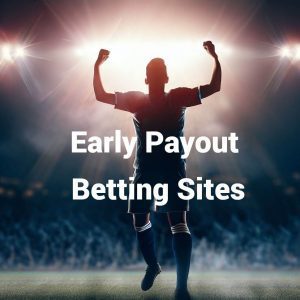 Early payout betting is a great feature that has transformed the landscape of UK sports betting, with sites likes bet365 offering an enticing twist to the traditional wagering experience. In essence, it provides bettors with an opportunity to secure a win before the final whistle, mitigating the risks associated with late-game surprises.
Typically, early payout is triggered when a specific condition is met during the game. One of the most common and thrilling scenarios involves football matches, where early payout is offered when a team goes two goals up against their opponents. This condition acts as a significant turning point in settling the bet, regardless of the final outcome of the game.
What sets early payout betting apart from conventional wagering is that it eliminates the need to wait until the last moment to determine the bet's fate.
The beauty of early payout lies in its simplicity and accessibility. It caters to both seasoned bettors and newcomers alike, offering a level of flexibility rarely found in other betting options. This feature not only enhances the betting experience but also empowers bettors to make strategic decisions when placing their bets.
Furthermore, early payout betting isn't limited to football alone. Many bookmakers extend this feature to a diverse range of sports, including basketball, tennis, and more. Each sport might have different triggering conditions, but the underlying concept remains the same.
It's worth noting that early payout betting isn't always available for every game or every bookmaker. It often comes as part of promotional offers, enhanced odds, or loyalty programs. As such, it's essential for bettors to keep an eye on the terms and conditions, and explore different bookmakers to find the best early payout opportunities that suit their preferences.
Advantages of Early Payout Betting
Early payout betting offers a range of advantages that make it a sought-after promotion among UK sports bettors. So let's delve into these advantages and understand why it can be a game-changer in sports wagering.
Reduced Risk and Peace of Mind
One of the most significant advantages of early payout betting is the reduced risk it provides. If a team goes two goals up in a football match or meets the specific triggering condition in other sports, bettors have the opportunity to secure a win regardless of the final outcome. This eliminates the nail-biting tension that often accompanies the closing moments of a game, offering peace of mind and assurance that your bet will be a successful one.
Strategic Betting Opportunities
Early payout opens up strategic betting opportunities, especially for experienced bettors. You can use early payout to hedge your bets, especially if the team you fancy is playing a weaker opposition.
Applicable to Various Sports
While often associated with football, this promo is available in a wide range of sports. Whether you're into basketball, tennis, rugby, or other sports, you can explore early payout offers tailored to your favourite events.
Understanding the 2 Goals up Rule
The "2 Goals up Rule" is the pivotal condition that triggers early payout betting in many sports, most notably in football. This rule is designed to offer bettors an opportunity to secure a win when a particular team achieves a two-goal advantage over their opponents during a match. Understanding this rule is essential to grasp how early payout betting works and how it can influence your betting strategy.
Significance of a Two-Goal Lead
In football and other sports with a scoring system based on goals or points, a two-goal lead is considered a crucial milestone in a match. Achieving a two-goal advantage, or its equivalent in other sports, indicates that the leading team is performing well and has a comfortable margin over their opponents. Such a lead significantly improves their chances of winning the game.
Why Bookmakers Offer Early Payout
Bookmakers offer early payout when a team goes two goals up primarily as an incentive to attract more bettors and increase engagement. The rule serves two key purposes from the bookmaker's perspective:
Customer Attraction: Early payout promotions catch the attention of potential bettors, appealing to their desire for reduced risk and guaranteed returns. This can lead to increased sign-ups and higher betting activity on specific events.
Mitigating Potential Losses: By offering early payout, bookmakers can manage their exposure to risk. When a team goes two goals up, the probability of that team winning becomes significantly higher. Early payout allows bookmakers to limit potential losses if they have significant liabilities on that particular outcome.
The Best Early Payout Betting Sites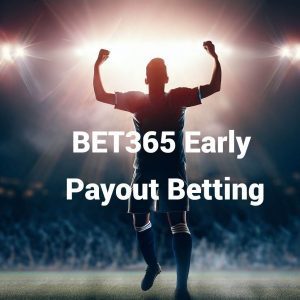 Finding the best early payout betting sites is crucial for bettors looking to take advantage. Here, we've highlighted some top-rated betting sites offering early payout promotions:
Bet365 Early Payout
Bet365 is renowned for its comprehensive sports betting options and user-friendly interface. They frequently offer early payout promotions, particularly in football matches, when a team goes 2 goals up. With a wide range of eligible markets and competitive odds, Bet365 stands as a popular choice for early payout betting enthusiasts.
Boylesports Early Payout
Boylesports have just announced an excellent early payout feature that enables bettors to benefit from a team taking a lead. They cover various sports, and their in-play betting options allow for real-time monitoring of matches.
William Hill Early Payout
William Hill is a trusted and established bookmaker that often provides early payout promotions in various sports, including football, basketball, and tennis. Their platform is easy to navigate, and they frequently offer enhanced odds alongside their promotions.
Paddy Power Early Pay Out
Paddy Power is well-known for its innovative promotions and special offers, making it a prime destination for early payout betting. They frequently run promotions tied to high-profile sporting events.
Sky Bet Early Payout
Sky Bet is another bookmaker known for its early payout options. But in all honesty they would be our last choice to open a betting account at. They just don't stack up against some of the other bookies, or even new sites like Bet Dukes.
When choosing a betting site, it's essential to consider factors beyond the early payout promotions alone. Look for a platform with a wide range of sports and markets, competitive odds, excellent customer support, secure payment options, and a user-friendly interface. This is sadly where we feel Skybet and Paddy Power fall short compared to the other bookies we mentioned.
Ultimately, the best early payout betting site for you will depend on your individual preferences and betting style.
Early Payout Examples
While early payout betting can be a great opportunity for gamblers, it generally lands in the bookies favour, but there are occasions where the betting sites have been caught out by their own promotion. Below are just a few examples of where bookies have been stung by having to payout twice for game, for the 2 goal lead and for the game winner.
The Miracle of Istanbul (UEFA Champions League Final, 2005)
In one of the most unforgettable comebacks in football history, Liverpool faced AC Milan in the 2005 UEFA Champions League Final. AC Milan took a commanding 3-0 lead in the first half, putting bettors who had wagered on bet365 early payout quid's in. However, Liverpool staged an astonishing comeback in the second half, scoring three goals to level up the score. They ultimately won the final on penalties, leaving a lot of bookies out of pocket.
Manchester United vs. Tottenham Hotspur (Premier League, 2018)
In an enthralling Premier League encounter, Manchester United found themselves 2-0 down against Tottenham Hotspur. Bettors who had placed bets with early payout were likely celebrating their successful wagers. However, a stunning second-half performance by Manchester United turned the game around as they scored three goals in the last 20 minutes, winning the match 3-2.
Atlanta Falcons vs New England Patriots (Super Bowl LI 2017)
In Super Bowl LI, held on February 5, 2017, the Atlanta Falcons dominated the first half of the game, building an impressive 21-3 lead by halftime. This triggered the early payout at most bookies. As the game progressed, the Falcons extended their lead even further, going 28-3 up in the third quarter.
With the Patriots facing a seemingly insurmountable deficit, what followed next was nothing short of a remarkable comeback. In a stunning display of determination and skill, the New England Patriots rallied back, scoring 25 unanswered points to level the game at 28-28 by the end of regulation time. This forced the first-ever Super Bowl overtime in history.
In overtime, the Patriots continued their momentum and scored a touchdown, sealing a remarkable 34-28 victory and completing an unprecedented comeback.
Chelsea vs. Arsenal (Premier League, 2018)
During an enthralling London derby between Chelsea and Arsenal, Chelsea went 2-0 up in the first half. Early payout would have seemed like a wise decision for some betting sites at this point. However, Arsenal showcased their resilience and determination, scoring two second-half goals to equalize the match, ending it in a 2-2 draw. Making bookmakers payout twice
Early Payout in Various Sports
Early payout promotions aren't limited to just one sport; they are becoming increasingly popular across various sports, catering to a diverse range of betting preferences. Below we'll explore how early payout applies to different sports and the conditions that trigger this exciting feature.
Football
Football is undoubtedly one of the most prominent sports where early payout promotions are commonly offered. The 2 Goals up Rule is a prevalent condition that triggers early payout. When a selected football team goes two goals up during a match, a bet on that team will payout, securing a profit regardless of the final result
Basketball
In basketball, early payout promotions might apply when one team establishes a significant lead over their opponents. For example, if a basketball team takes a 20-point lead during a game, bettors might have the opportunity to have their bets settled early, locking in a win before the final buzzer. Similar to football, this condition allows bettors to benefit from the team's momentum and reduce the risks associated with potential comebacks.
Tennis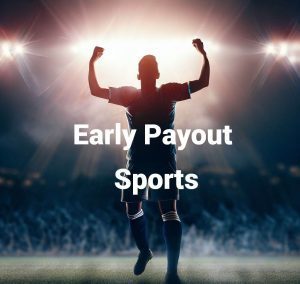 Tennis also presents early payout opportunities, particularly in Grand Slam events or other high-profile matches. For instance, if a player goes two sets up in a best-of-five match, this is usually when an early payout is triggered.
Rugby
Rugby has become as a popular sport to bet on, so betting sites are starting to apply early payout to prominent fixtures. For instance, if a rugby team establishes a significant lead during a match, the win will be triggered. The margin for this sport does differ between the likes of bet365, Paddy Power and Skybet, so it's definitely worth looking around if you a punt on Rugby.
American Football
In American football is an emerging presence in the UK, and as we get used to the betting markets, early payout promotions are used to entice gamblers to the sport. When offered, if a team goes 17 points ahead, usual three touchdowns or two TD's and a field goal, bookmakers will payout.
Ice Hockey
Ice hockey is yet to really take off in our betting markets, but for the sites that offer it, it is another sport where early payout promotions can be found. When a team takes a three-goal lead during a match, bettors might be able to secure an early win if the promotion is available.
It's essential to keep in mind that the specific sports and conditions for early payout promotions can vary between different bookmakers. Some might offer early payout more frequently, while others might have specific promotions tied to major sporting events. As a bettor, exploring different bookmakers and staying updated with their promotions can help you take full advantage of early payout opportunities across various sports.
Sports Betting Tips for Early Payout
While early payout betting can provide an edge in sports wagering, making informed decisions is crucial to maximize your chances of success. Here are some valuable tips to consider when utilizing this popular promotion.
Research Team Form and Performance
Before placing any bet, conduct thorough research on both teams involved in the match. Analyse their recent form, performance statistics, and any key injuries or suspensions that might impact the game. A team going 2 goals up might be a reflection of their current dominance, but it's vital to ensure that this lead is achievable based on their overall performance.
Assess the Importance of the Match
The significance of the match can play a crucial role in determining how teams perform when leading by two goals. In high-stakes games or cup finals, teams might show more resilience and determination, making a 2-goal lead more challenging.
Manage Your Betting Budget Wisely
As with any form of betting, responsible bankroll management is crucial. Set a budget for your bets and stick to it. Avoid chasing losses or becoming overconfident about an early payout. Consider the potential outcomes and rewards relative to the risk, and always bet within your means.
Stay Informed about Promotions
Keep yourself updated on bookmakers offering early payout promotions. Different bookmakers might have varying terms and conditions and eligible markets. Being aware of the available promotions can help you find the best opportunities for early payout betting.
Combine Betting Strategies
Early payout can be a valuable tool to complement other betting strategies, such as hedging or cashing out in-play. Consider how it fits into your overall betting approach and how it can enhance your chances of achieving profitable outcomes.
By following these tips for early payout when a team goes 2 goals up, you can make well-informed decisions and increase the enjoyment of your betting experience. Remember, while early payout offers enticing advantages, it's essential to approach it with a blend of strategic thinking, research, and prudent betting practices.
Terms and Conditions of Early Payout "2 Goals up" Promotions
As with any promotional offer in sports betting, "2 goals up" promotions come with specific terms and conditions that bettors must be aware of before taking advantage. Here are some common terms and conditions associated with early payout promotions:
Eligible Markets
Early payout promotions may apply only to specific markets or bet types. For example, it is usually limited to pre-match single bets on the Full-Time Result market. It's unlikely that the games that have this promotion will payout early if they are part of a yankee bet, or other types of bets. It's essential to review the eligible markets to ensure your bet qualifies for early payout.
Minimum Bet Amount
Bookmakers often impose a minimum bet amount to qualify for any promotion. This means that your bet must meet the specified minimum threshold to be eligible for the promotion.
Maximum Payout Limit
This is rare, but we have seen a maximum payout limit imposed on an early payout promotions. Even if your potential winnings exceed this limit, the bookmaker will only pay out up to the specified amount. Be aware of this cap when considering early payout options.
Cash Out Options
Bookmakers may offer partial cash-out options during the game. With partial cash-out, you can secure a portion of your potential winnings while leaving the remaining bet to run. But using partial cash out will likely void the promotion element of your bet.
Voided Bets
If a match is abandoned or postponed, the bookmaker may void the early payout promotion. Make sure to review the bookmaker's policy regarding voided bets to understand how this situation will be handled.
Exclusions and Restrictions
Certain promotions might have exclusions or restrictions, such as not applying to bets placed with free bets or bonus funds. Additionally, bookmakers may reserve the right to remove or modify the promotion at any time. Always read the fine print to understand any specific exclusions or restrictions that might apply.
Remember, terms and conditions can vary between different bookmakers and promotions. It's essential to review the specific terms associated with the early payout promotion you're interested in, to ensure you meet all requirements.
Early Payout Summary
Early payout betting when a team goes 2 goals up is a feature that adds a new dimension to UK sports betting. The best thing about this promotion is that there is rarely ever a need to opt in, it's usually automatically applied
This makes bet365 early payout, and other bookies like Paddy Power and Skybet, a great option. As it doesn't cost you anything extra, but you can easily benefit from it under the right circumstances.
Just remember to check those T&C's beforehand, to make sure your bet qualifies. This way you won't be wasting time complaining to customer services if you don't get your payout.