Ad Disclaimer
Ad Disclaimer!
COBS is an affiliation website. We help you find gambling sites where you can play with real money.
Many or all of the products and brands featured here are from our partners who compensate us. This may influence how the product or brand appears on a page. However, this does not influence our evaluations. Our opinions are our own.
The information on this page, including operator and game details, is updated regularly but subject to change.
As you have probably gathered from our content on betfred cash out and the Betfred boosted acca, we're big fans of this bookmaker. But sports betting isn't all they do, The Betfred Nifty Fifty and Irish lottery are lotto games that are just as popular as their sportsbook.
Below we will cover the NiftyFifty and all it has to offer, explaining why this not just your ordinary lottery product. So even if you are an experienced lottery player, there may be a few intriguing aspects that piques your interest.
But when is the draw, how do you find the Nifty Fifty results and are there any strategies that can be adopted to improve your chances? Thankfully for you, we cover all of your questions and more in this comprehensive Nifty Fifty lottery guide.
Betfred Nifty Fifty Explained
You could be mistaken for thinking the Nifty Fifty from Betfred is just another lotto like the national lottery. But although it has its similarities, the Nifty has a more appealing format for players who are fed up with the watered down National version.
Five out of Fifty Lotto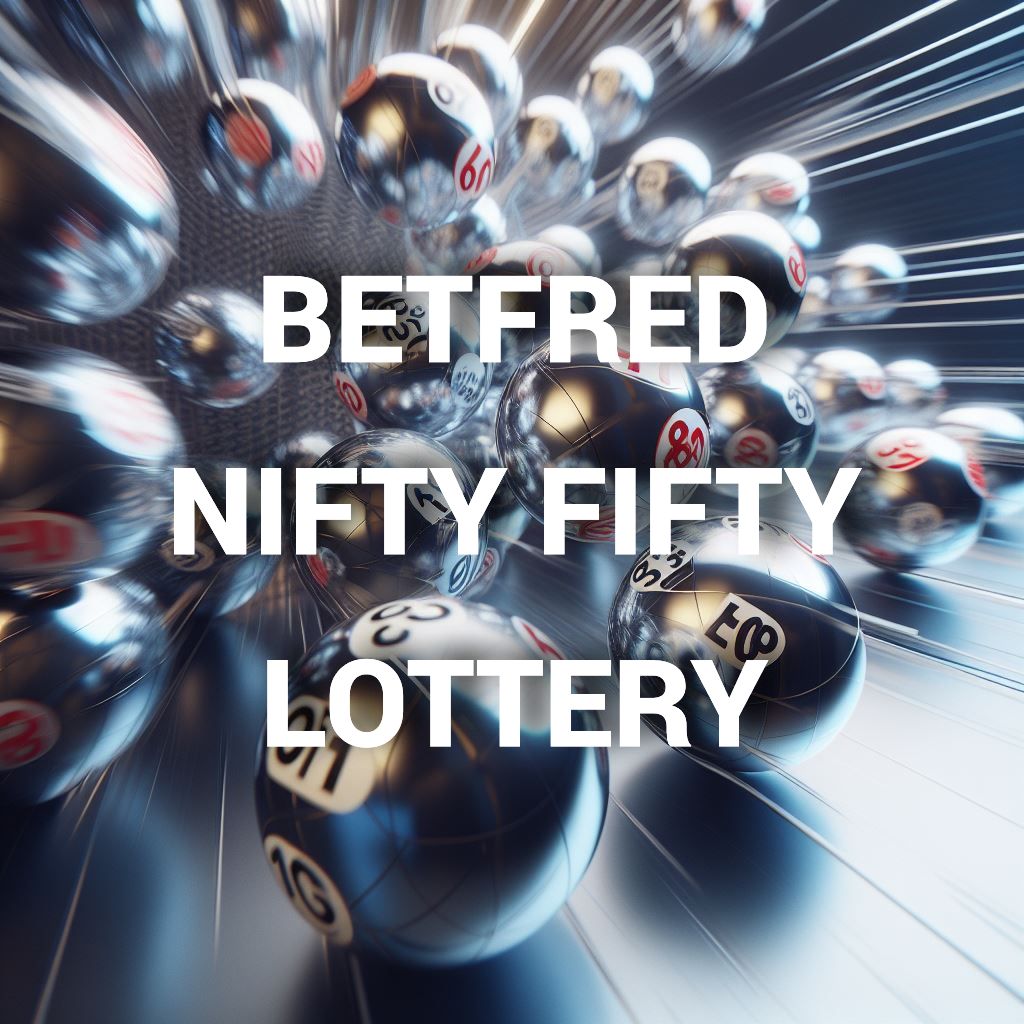 Where other lottery products have seen the main draws increase the number of balls used, the Nifty Fifty have, as the name suggests, have kept the 50 ball format. It's from these numbers that players select what may turn out to be their lucky 5. This keeps things simple but also retains the potential for a decent return if your numbers come in.
How Does the Nifty 50 Lotto Work?
Despite the slight differences, playing the Nifty Fifty is relatively straight forward, especially for regular lottery players. As we mentioned above, there are balls numbered from 1-50 that players need to choose from. Most players have specific numbers that mean something to them that they usually pick, but there is also the option of a lucky dip.
Unlike the national games, you can select between one and five numbers to match from the six main numbers drawn. The more numbers you pick, the bigger the potential prize. There is also the chance of a return from fewer numbers compared to other lotteries. For instance, correctly predicting just 2 balls with a £1 bet would see a return of £71, including your original stake.
Bonus Ball
Let's face it, it wouldn't be a lottery if it didn't have a bonus ball, but the Nifty Fifty bonus ball is a little different. In this case the player has the option as to whether to play the bonus ball, but should you play it?
The bonus ball isn't a specific designated ball that's pulled after the main balls. Instead you can match any of seven balls drawn, and it isn't separated for the winnings either. So you will simply match 4 balls and not 3 and the bonus.
But by opting to use the bonus ball the odds of hitting your numbers reduce, as does the prize amount up for grabs.
Nifty Fifty Multiples
Multiples are another aspect of the Nifty Fifty that differ from most lotteries, and they are a great way of enhancing your lines. For those who aren't aware, a line is the term used for the numbers a player selects to play.
Nifty Fifty players can select multiple lines, or to mix things up a little they can even multiple select multiple bets. Knowing the difference between is actually quite important.
Although the Nifty Fifty is classified as a lotto, it's actually a fixed odds game, which opens it up to the betting options that you would ordinarily see with an accumulator. This means you can enhance your lines with the likes of a trixie bet or any other combination bet.
In this scenario you would be betting on combinations of your 3 selected numbers. You would actually be placing three doubles and a treble on your numbers, so if you selected 12, 24 and 36 the following combinations would apply;
Doubles: 12 & 24, 24 & 36, 12 & 36
Treble: 12, 24 & 36
This type of bet does mean an increase in your stake though, as you need to cover all of the possible combinations. So instead of the usual £1, a Nifty Fifty trixie bet would cost you £4, but with that comes a greater chance of winning.
Or if you choose, you can place multiple lines of varying numbers instead. But whichever way you choose to play your numbers, you can do so for multiple weeks with a single bet.
Nifty Fifty Lottery Results & Draw
Here we have another area where the Nifty Fifty stands out from the crowd. Compared to other games that have two draws, this one has three draws a day for every day of the week. So there is no need to sit on your ticket for a few days waiting for the draw.
With this many draws on a daily basis, keeping up with the results can be tricky. But there are a couple of ways you can view the result. The main way in which players can check their numbers is by watching the draw live in one of the many Betfred betting shops or on their website. But we appreciate that isn't always possible, so Betfred kindly list the Nifty Fifty results on a designated page at Betfred.com.
The results displayed cover draws over multiple days and weeks and are available 15 minutes after each draw. But if you placed your bet online, there is no need to check the numbers, as any winnings will be automatically appear in your gambling wallet.
What are the Nifty Fifty Odds?
When it comes to the Nifty Fifty odds, they also work a little differently compared to other lotteries. As the prize pool isn't dependent upon the number of entrants, it is actually a fixed odds game and a game of chance. So the odds on each possible outcome are as follows;
| Numbers Selected | 6-Ball Draw Win | 7-Ball Draw Win |
| --- | --- | --- |
| 1 | 7/1 | 6/1 |
| 2 | 70/1 | 50/1 |
| 3 | 800/1 | 500/1 |
| 4 | 10,000/1 | 5,500/1 |
| 5 | 200,000/1 | 60,000/1 |
These odds are correct at the time this content was written.
Strategies for Playing the Nifty Fifty
You may not think it, but as this is a fixed odds game, there are actually a few strategies that can be applied to the nifty fifty.
Unlike sports betting, statistical analasys is not your friend, as the balls are drawn completely at random, previous results are no indication of what numbers will drop in future. So what strategies can be aplied.
There is really only one stragety that has the possibility of bearing fruit, and that's the Martingale system. It can be seen by some as a risky approach to betting on the Nifty Fifty, but it may still be worth exploring.
This may seem contradictory but another, and possibly the most important strategy, lies in responsible gambling. The most important aspect of gambling responsibly is not to chase any losses you may have. The best way to bet responsibly is to set yourself a weekly budget so you don't get too carried away.
Should You Play the Nifty Fifty?
Despite being one of the country's biggest bookmakers, with an array of sports betting and casino products, the Nifty Fifty is actually one of their most popular. Having different nuances to standard lottery games simply adds to this appeal.
The aspect we like the most is the fact that you can mix it up with different types of bets, as well as the fact that there are far more draws to take advantage of on a daily basis. If you are a lottery fan than this product should be right up your street. But like we advise all of our readers, please gamble responsibly.