Ad Disclaimer
Ad Disclaimer!
COBS is an affiliation website. We help you find gambling sites where you can play with real money.
Many or all of the products and brands featured here are from our partners who compensate us. This may influence how the product or brand appears on a page. However, this does not influence our evaluations. Our opinions are our own.
The information on this page, including operator and game details, is updated regularly but subject to change.
Galloping into the heart of the UK's horse racing season is the spectacular York Ebor Festival, a flagship event that stands as a favourite for fans and betting sites alike. With a history as rich and illustrious as the finest thoroughbreds that grace its hallowed track, the York Ebor Festival is more than just you typical horse racing event; it's a blend of sport, style, and strategy.
In our comprehensive guide, we will walk you through everything the York Ebor Festival has to offer. From the history of the event and the intricacies of the racecourse and how it can impact your betting. We'll also provide expert tips for picking your runners at the best Ebor festival betting sites. So, saddle up and join us to learn everything that is Ebor.
A Brief History of the York Ebor Festival
Nestled within the historic city of York, the Ebor Festival emerges as a true gem in the crown of British horse racing. This event has a history that spans centuries, which is one of the reasons it's favoured by the fans.
The origins of the Ebor Festival at York racecourse can be traced back to the early 19th century. The festival's name, "Ebor," draws inspiration from the Roman name for York, "Eboracum," evoking a sense of timelessness and a connection to the city's rich history.
The festival's inaugural race took place in 1843, and it was quickly adopted as one of the most prestigious events in the racing calendar. The lure of the Ebor Festival extended beyond the races alone, allowing all walks of life to attend and enjoy the culture, fashion, and entertainment.
Over the years, the Ebor Festival has borne witness to some iconic displays and heart-stopping drama. Champion thoroughbreds have etched their names into history, From Frankel's breath-taking performance in 2012 Juddmonte Stakes, to Stradivarius securing back-to-back victories in the Lonsdale Cup at the 2019 and 2020 Ebor Festivals.
Ebor Festival Racing Schedule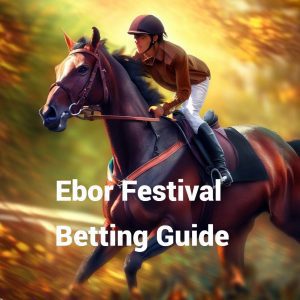 The festival takes place over four days, usually towards the end of August before the bank holiday weekend. Each day packed with exciting races, from the next generation of horses displaying their potential to the current crop of champion thoroughbreds.
Day 1: Juddmonte International Day
The curtain rises on the York Ebor Festival with an exhilarating opening day that sets the tone for the days to come. Juddmonte International Day showcases a spectacular line-up of races, culminating in the highly anticipated Juddmonte International Stakes.  This Group 1 race, known for attracting some of the finest middle-distance thoroughbreds from around the world, commands attention and promises a fierce battle for supremacy.
Race Schedule:
Symphony Group Handicap
Acomb Stakes
Great Voltigeur Stakes
Goodwood Cup
Juddmonte International Stakes
Sky Bet Handicap
Nursery Handicap
Day 2: Ladies' Day
Radiating elegance and style, Ladies' Day at the York Ebor Festival presents a captivating blend of top-class racing and high-fashion. Amidst a backdrop of fascinators and fine attire, the spotlight shines brightly on the Yorkshire Oaks – a Group 1 race that showcases the exceptional prowess of fillies and mares.
Race Schedule:
Lowther Stakes
Premier Yearling Stakes
Clipper Logistics Handicap
Yorkshire Oaks
Galtres Stakes
EBF Fillies' Handicap
Day 3: Ebor Day
The biggest day of the Yorkshire Festival arrives with its namesake, the Ebor Day. At the heart of the day lies the Nunthorpe Stakes, a historic and fiercely contested race that captivates fans and punters alike with its wide-open nature and thrilling unpredictability.
Race Schedule:
Sky Bet Handicap
Lonsdale Cup Stakes
Gimcrack Stakes
Nunthorpe Stakes
Convivial Maiden Stakes
Nationwide Handicap
Day 4: Ebor Festival Finale
The final day of the York Ebor Festival embraces the excitement of the Ebor Heritage Handicap, providing a fitting conclusion to this four-day spectacle of speed, strategy, and splendour.
Race Schedule:
Strensall Stakes
Melrose Handicap
City Of York Stakes
Ebor Handicap
Julia Graves Roses Stakes
Sky Bet Handicap
Apprentice Handicap
Note: Start times are provided based on historical schedules and are subject to change. For the most accurate and up-to-date information, please refer to the official York Racecourse website.
Betting on the York Ebor Festival
Ok, so now you've had a run-down of the Ebor festival and its schedule, let's get down to the reason you are likely to be here. Ebor festival betting is big business, so below we will give you some valuable insight about the racecourse. We'll also provide you with expert tips for picking winning runners, riders and trainers.
Best Ebor Festival Betting Sites
We thought this to be as good a place to start as any. When placing your Ebor bets, you want to make sure your betting at a trustworthy bookmaker that offers the best odds guaranteed.
That's why we've compiled a list of our favourites that tick all of those boxes and more.
Above is a mix of household names and newer sites. The biggest name being bet365, but while Boyle and Netbet may not have as many customers they are definitely worth considering. You can also track your bet with William Hill, even if you placed it on the High St, so they are definitely worth considering.
York Racecourse and How it Affects Betting
York Racecourse possesses a distinctive allure, marked by its unique features and challenges that conspire to test the mettle of both horse and jockey. Understanding these characteristics is key to understanding how it can affect a horse's performance and betting outcomes.
Racecourse Layout
The expansive turf and its undulating contours offer a challenging terrain that demands both strength and finesse from competing steeds. The Knavesmire, as the track is affectionately known, boasts a straight mile that serves as a playground for the speedsters, allowing them to unleash their raw power and accelerate towards the finish line.
Beyond the straight mile, however, lies a challenge of an entirely different nature. The left-handed configuration of the track means that turns come thick and fast, testing a horse's ability to navigate these bends with precision.
The famous Dante Curve and the Dip add further complexity, requiring horses to maintain balance and momentum through sharp changes in elevation.
Impact on Horse Performance and Betting Outcomes
The unique layout of York Racecourse has a profound influence on the performance of horses, often becoming a decisive factor in determining race outcomes. Horses adept at handling rolling terrain and negotiating tight turns have a strategic advantage, especially in races where positioning and timing are critical.
For bettors, assessing a horse's suitability for the course involves scrutinising past performances, understanding its form on left-handed tracks. Moreover, jockey skill becomes a critical consideration, as experienced riders who can deftly manoeuvre through the twists and turns may hold a decisive edge.
Expert Tips for York Ebor Festival Betting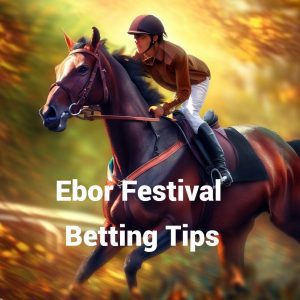 Betting success at the Ebor Festival is about more than just luck, you also need a good understanding of the sport, a keen eye for detail, and a dash of strategic finesse. Here, we unveil our expert tips that should elevate your betting and chances of success.
Form Analysis
Form analysis should be an essential part of your betting journey. When dissecting form, bettors should consider factors such as recent race results, the quality of competition faced, consistency of performances, and adaptability to various track conditions.
A horse that has demonstrated a string of victories or consistent placements across races suggests a high level of form. Likewise, a horse that has excelled on a variety of track surfaces and distances exhibits versatility and adaptability – qualities that are especially relevant at the diverse York Ebor Festival.
Weather and Track Conditions
Mother Nature often lends her influence to the outcome of races, making weather and track conditions crucial considerations. A horse that thrives on soft turf might falter on a firmer surface, and vice versa. Expert bettors keep a watchful eye on weather forecasts leading up to race day, adjusting their strategies based on how conditions might impact their chosen contenders.
Trainer Insights
Trainers are the maestros behind the scenes, orchestrating every aspect of a horse's preparation. Researching trainers' histories at the York Ebor Festival can yield valuable insights into their strategic tendencies.
Some trainers specialize in certain race types or have an affinity for specific conditions. Identifying these patterns can provide a better understanding of how a horse is likely to perform under their guidance.
Jockey Selection
Some Jockeys are synonymous with the Ebor Festival, such as Ryan Moore and Frankie Dettori, but a jockey's role extends beyond guiding a horse around the track. It encompasses strategy, timing, and a deep understanding of their rides behaviour. Experienced jockeys who know York Racecourse like the back of their hand can leverage its unique features to their advantage.
Research jockeys with a history of successful rides at the festival, as their expertise can significantly impact a horse's performance.
Value Betting
The pursuit of value betting requires a keen eye and a willingness to challenge the odds. Expert bettors scrutinize odds and form, searching for instances where a horse's true potential exceeds bookmakers' expectations. As the York Ebor Festival showcases a diverse array of races and horses, keen observers have the chance to uncover hidden opportunities that could yield results.
Sometimes it's about more than just the odds. Exploring the different types of horse racing bets available can also be key in any strategy.
Discipline and Patience
Perhaps the most underestimated of all tips is the importance of discipline and patience. Set a budget, allocate stakes wisely, and avoid the pitfalls of emotional betting. Betting on multiple races can be enticing, but expert bettors exercise restraint and select races where they have a high degree of confidence. A focused approach, combined with bankroll management, safeguards against overextending and ensures sustainable betting.
Study Historical Trends
History often leaves footprints that can guide the present. Studying historical trends at the York Ebor Festival can offer insights into which horses and strategies have fared well over the years. By identifying recurring patterns and notable successes, you can make more informed decisions and position yourself on the path to success.
Summary of Betting at York Ebor Festival
This four-day spectacle has everything fans of horse racing could ask for, regardless as to whether you are new to the sport or consider yourself an expert. We absolutely love the Ebor Festival at York and mark the dates in calendar as soon as they are announced.
Hopefully with our expert tips and insights in to racecourse itself, you'll be well on your way to picking your next winner. But remember, racing and gambling are about more than just winning money, it's about the fun and the excitement of the event.
So don't get carried away by betting more than you can afford, or start chasing any losses. Simply enjoy any wins you have and make the most of the festival.