Ad Disclaimer
Ad Disclaimer!
COBS is an affiliation website. We help you find gambling sites where you can play with real money.
Many or all of the products and brands featured here are from our partners who compensate us. This may influence how the product or brand appears on a page. However, this does not influence our evaluations. Our opinions are our own.
The information on this page, including operator and game details, is updated regularly but subject to change.
There may be many reasons you're looking to delete your Bet365 account. But before you do there are a few steps you'll need to follow. Fortunately our quick and easy guide on how to close a bet365 account has you covered.
If you want to delete bet365 from your life due to lack of bonuses or poor bet365 cash out values and odds for your chosen betting market, you may want to try these sites similar to bet365. Or for a quick comparison we have listed some alternatives below.
Steps to Close bet365 Account
In order to delete your account it may be worth visiting bet365 from your computer, rather than their mobile site or bet365 app, as these can sometimes be restrictive.
The First thing you'll need to do is log in to your account and visit the "Members" section of the website. This can be accessed by clicking "service" at the top of the site.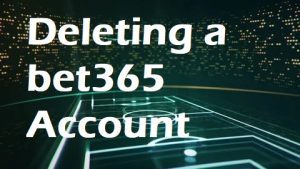 From there, click on "my Account" followed by the "Responsible Gambling" link. You will then be presented with several options, simply select the "close bet365 account" option.
Once you've selected the delete bet365 account option, you'll be asked to provide a reason for closing your account. You can select from a number of options, including "Self-Exclusion", "Financial Reasons", and "Gambling Addiction". You'll also have the option to add any additional comments you may have.
After submitting your request, your bet365 account will be closed within 24 hours. However, it's important to note that if you have any outstanding bets or funds in your account, these will need to be resolved before your account can be closed.
Reasons for Deleting bet365 Account
There are several reasons for deleting your account, all of which can be very individual. It could be that you no longer feel the odds available are of any value. You may also prefer the early payout bonuses available at a bet365 alternative. In some cases you may even have been a victim of gubbing, so don't have much choice but to close your account.
It's worth noting that if you're considering deleting your Bet365 account due to concerns about problem gambling, there are a number of resources available to help you. Bet365 offers a range of responsible gambling tools, such as deposit limits, time-outs, and self-exclusion periods, which can help you manage your gambling activity.
Additionally, there are a number of independent organizations that offer support and advice for those struggling with problem gambling. These include GamCare, Gamblers Anonymous, and the National Gambling Helpline.
So, while deleting your Bet365 account is a straightforward process, it's important to consider the reasons behind your decision. If you are struggling then seek help and don't just look to move the issue to another bookmaker.
Alternative Bookmakers
As we mentioned earlier, some gamblers choose to close their bet365 account to get better odds elsewhere. There is also the option to take advantage new welcome bonus or betting promotion at one of their competitors.
So if you are in the market for new online bookmaker, then you can't go wrong with any of these betting sites.
All of these sites are full licenced in the UK and offer some of the best odds currently, as well as some generous welcome bonuses.
Reactivating a bet365 Account
If you've previously closed your Bet365 account but have changed your mind, you may be looking to reopen it. However, it's important to note that in most cases, you may not be able to recover your old account and instead may need to create a new one. If you just want to jump right in and open a new account then click here.
To begin the process of trying to reopening your Bet365 account, you'll need to contact the company directly. A customer services agent will be able to assist you with the process and hopefully reinstate your account.
It's worth noting that if you closed your account due to concerns about problem gambling and were in a self-exclusion period, you won't be able to reopen your account until the self-exclusion period has ended.
Like most betting sites, Bet365 takes responsible gambling seriously and will not allow members to re-join the site or use its services with another email address during a self-exclusion period.
It's also important to note that when you chose to delete a bet365 account, there is a likelihood that it resulted in the deletion of your personal information from Bet365's databases. In which case, you may need to create a new account using your old details, or alternatively, create a new account with a new login.
Contacting bet365
To get the ball rolling on recovering your bet365 account, you will need to contact them to check whether all your details have been removed from their system. There are two ways in which you can contact them, good old fashioned telephone or email.
Email: It's advised to use the same email you used to register your account, also provide your username and use the subject heading "Account Closure".
You can contact bet365 by emailing: support-eng@customerservices365.com
Phone: before calling, make sure you have all the details of your closed bet365 account to hand. They may require this information to confirm you were the original account holder, they may also ask you for the account password.
You can call Bet365 on 01782 684 757.
Summary of Deactivating bet365 Account
By following the simple steps laid out above you can easily delete a bet365 account. But should you think you may want to return to them at a future date, the better option may be to simply deactivate it instead.
That way if you do change your mind, they can reactivate your original account with all of your details, rather than creating a new one.
But remember, if you are closing the account due to financial or health issues, we strongly advise you to seek advice from a professional.