Arbitrage betting has been a concept with gamblers for a while, but what is it? Sports betting arbitrage or a sure bet is when a gambler backs both sides of an outcome in order to improve their profit; it also happens to drastically minimise their losses. We appreciate that there are gamblers who want to try and get an edge on the bookies with arbitrage betting, but we don't do it ourselves or suggest anyone else does, for reasons laid out later on.
It is also referred to as arbing or sure bets with those who regularly place arbitrage bets. Like with most betting methods or systems there is still some risk involved, but with arbitrage betting a profit of some kind is almost nailed on.
When placing a bet, arbitrage is basically a form of hedging your bets, similar to a double chance or draw no bet; but with the exception of the improved outcome. It relies on the person placing their bets at roughly the same time on both sides of the betting market.
Arbitrage and Sure Bets Explained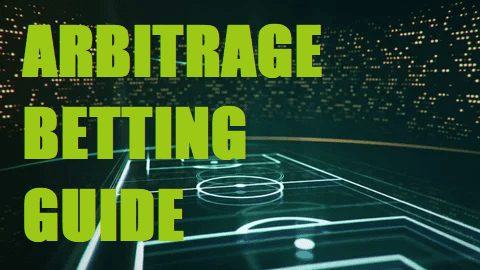 As we briefly mentioned above, sure bets are where you back both outcomes of a sporting event, but with two different bookmakers.
The reason that two different bookies are used for sports betting arbitrage is simple yet important. As an opportunity for arbing arises from a differing of opinion on the outcome of an event between two betting sites.
This means that the odds on offer from each one will differ, should this difference be big enough, this is where you can lock in a profit; regardless of which outcome wins. This is why sure bets won't work at one bookmaker, as you won't have the differing opinion that creates the opportunity for a profit.
Best Arbitrage Betting Sites
As this content is purely for educational purposes, and in line with our stance on arbitrage betting, we're not actually going to direct you to the best arbitrage betting sites. Pretty much any bookie can be used to place a sure bet. but before you do you may want to check out the risks of arbing.
But if you are in the market for a new betting site, then you may want to check out our best cash out betting sites, especially if you want to improve your odds while reducing possible losses in a manner that is condoned by bookmakers.
Evolution of Arbitrage Betting
Essentially arbitrage betting has been around since people began to wager on sports, playing local bookies off against each other.
But with the evolution of the internet it's become much easier to hunt down favourable odds in a short space of time; especially with the introduction of odds comparison sites and betting exchanges.
The move online does come with a drawback though, as bookmakers can use the same tools you have at your disposal to keep their odds in line with the market.
Bookmakers now also find it easier to track your activity, meaning they are able to pick out unusual betting patterns like sports betting arbitrage. Although arbitrage betting isn't illegal, it is frowned upon by betting sites and has been known to get a players account closed. So if you do choose to use this strategy, tread carefully.
How to Place Arbitrage Bets
You may not believe it, but sure bet opportunities can pop up any time there is a head to head contest; with only two outcomes. So the first thing you want to do is identify a closely contested event.
Sports that tend to favour sure bets include tennis, NFL, NBA, Darts and Boxing. This is due to the fact that a win outcome for one participant is all but guaranteed. We know that American Football matches and Boxing do have a possibility of ending in a tie, but it is rare.
A good example of an arbing opportunity would be a fight between Joshua and Fury. Remember you will need to compare the odds for this fight with multiple bookmakers.
Arbitrage Betting Calculator
So you think you've found the perfect sure bet, now it's time to check if the odds stack up. There are quite a few online arbitrage calculators available for you to use, but sometime you need to act fast before the odds change; so this quick formula for calculating arbitrage odds could come in handy.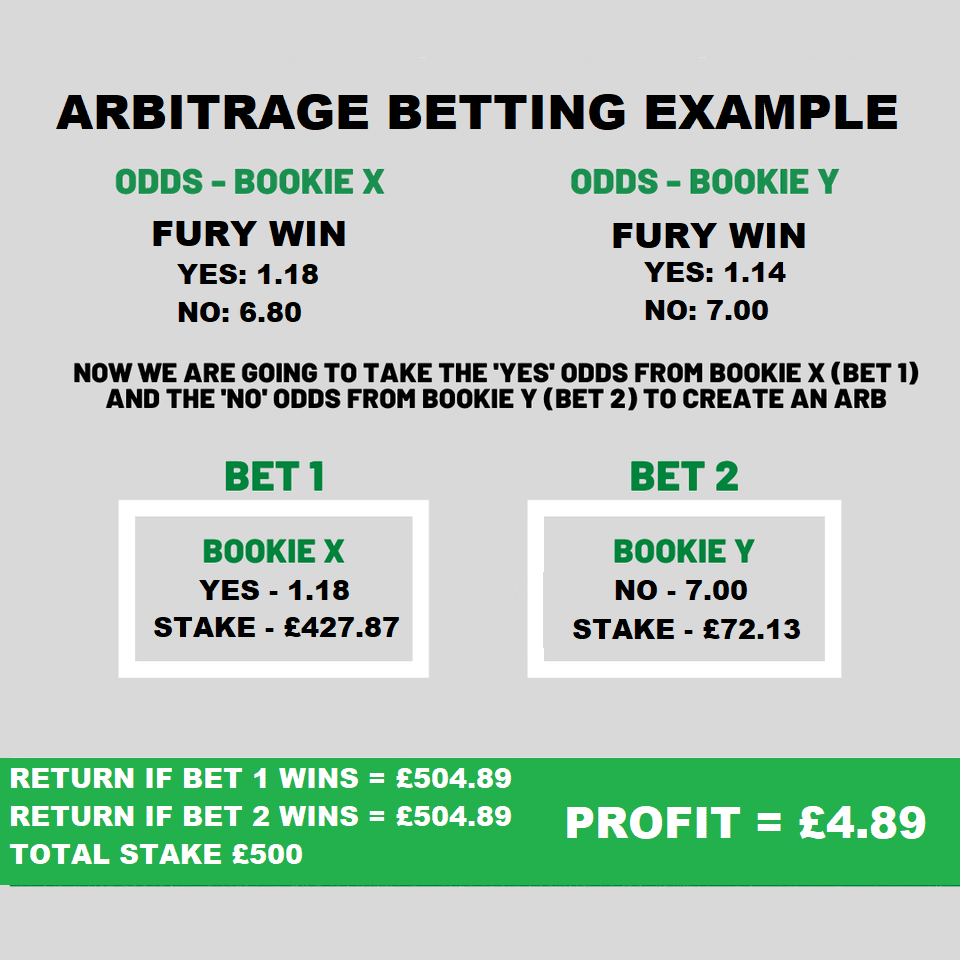 Using our example above, Fury would be the favourite due to Joshua's two defeats by Usyk; so the odds could look like this;
Fury Win: 1.18
Joshua Win: 7.00
Now you will need to calculate the arbitrage to see if these odds can work in your favour. Remembering that anything under 100% is a good outcome for you. You can do this using the following formula;
Arbitrage % = ((1 / decimal odds for outcome A) x 100) + ((1 / decimal odds for outcome B) x 100)
Ok so we admit this may look a little daunting if you're not Professor Hawkins, so here is a simplified example;
Tyson Fury win: (1 / 1.18) x 100 = 84.746%
Anthony Joshua win: (1 / 7.00) x 100 = 14.286%
84.75% + 14.29% = 99.032% (less than 100%, therefore an arbitrage bet)
As you can see we have less than a 100% outcome, so our sure bet is on. Now all we have to do is calculate the arbitrage profit from the amount we want to stake. Fortunately this is a relatively quick calculation.
Simply divide your total bet amount by the arbitrage percentage, then deduct the bet amount from that figure to reveal your profit, it should look like this;
(£500 / 99.032%) – £500 = £4.89 profit
So if you were to wager a total of £500 on your sure bets, you would walk away with a profit of £4.98. But in order to achieve this profit you now need to work out how much you need to bet on each outcome.
Yes you guessed it, we also have a formula for that, but this requires both the individual arbitrage and total arbitrage amounts; it again is fairly easy to calculate.
Fury stake = (£500 x 84.746%) / 99.032% = £427.87
Joshua stake = (£500 x 14.286%) / 99.032% = £72.13
So from the example above, you would need to bet £427.87 on Fury and £72.13 on Joshua to achieve your £4.89 profit from your arbitrage bets.
Now admittedly this does appear to be a low return, but as we mentioned earlier, this kind of betting yields low results. So only tends to favour those who can make big stakes or just like betting for fun. It also doesn't lend itself to cash out betting.
Due to the high deposit amounts required, if you usually opt for phone bill betting or GPay betting, then you may want to reconsider; or change your payment method.
What are the risks of Sure Bets?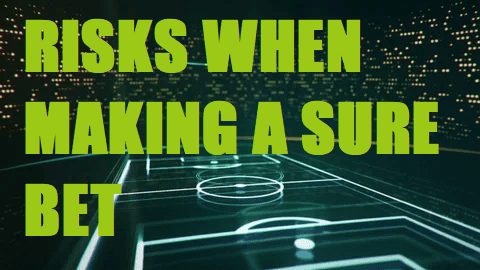 As we eluded to at the beginning of this arbitrage betting guide, there are some risks involved with when placing a sure bet. While they may not necessarily be to with losing money, they are certainly worth considering. Very little in life is risk free and these bets are no different.
Odds Movements
Arbitrage opportunities in online sports betting have a limited shelf life, so you have to move quickly to secure your odds. Bookmakers use sophisticated software to constantly compare their odds to those offered by their competitors, so if there's a discrepancy it won't be long before it's found.
If for some reason the bookie misses the opportunity for arbitrage betting, then increased betting activity can also tip them off. If you fail to act quickly, then this can increase your risk.
Betting Errors
As much as you may feel this contradicts our point above, moving too fast can be a big risk. With the calculations involved with sure betting, you want to make sure you get them right.
Due to the fine margins involved, if you were to work out the stake in the wrong proportions then this can dramatically impact profit; often resulting in a loss. If you are unsure of your calculations then using an online arbitrage calculator may be beneficial, reducing the risk of a betting error.
Data Protection
As we mentioned earlier, you will need to open multiple accounts at different arbitrage betting sites. With each site you will need to provide specific personal information to verify your identity, this is referred to as Know Your Customer.
The type of information required includes, email, name, and address, e-wallet, credit card information as well as copy of your passport or driver's license.
Online bookmakers are prime targets for cyber-attacks, due to having a vast amount of financial info on their records. So choosing the right bookmaker is key, as you need to make sure they are regulated properly and trustworthy.
It's all too easy to be attracted to a relatively unknown site offering high odds, but some unregulated or overseas bookmakers can be used to lure high stake bettors; leaving your financial information vulnerable.
This is one of the reasons we have provided a list of the best arbitrage betting sites, as these sites are highly regulated and extremely secure.
Cancelled Bets
Although this is rare it known for bookmakers to cancel a bet if they feel a mistake has been made or if the bet itself seems questionable. Unfortunately there is nothing that can be done if your bet is cancelled, as all bets placed are at the bookmaker's discretion.
Placing an unusually large bet, when compared to your recent activity can also trigger the bet to be reviewed and subsequently cancelled.
If this happens, you could always look to place the bet again with a different bookie, but it's likely the odds will have moved; resulting in a loss.
Exceeding Betting Limits
Arbitrage betting has a very small profit margin, so in order to be successful and gain bigger profits, gamblers are tempted to make larger bets; sometimes even making multiple large sure bets at the same time to increase their return.
This can often lead to a gambler over extending themselves financially and chasing bigger profits, this is where mistakes can be made.
Betting Account Reviews
Most high profile bookmakers don't take too kindly to arbitrage betting, even though it's not illegal. Betting in this manner can often lead to gambling site carrying out a review of your account.
Bookmakers are now encourage to promote responsible gambling, so where they see only large losses they have an obligation to restrict or even close an account. They will be completely unaware that the arbitrage trader has made winning bets at other betting sites.
Arbing is also considered an unusual betting pattern which can also trigger an account closure, which is covered in the terms of using their site. If they feel the amount being gambled could be linked to money laundering, this will also trigger a source of funds check; often resulting in the bet being cancelled and the funds withheld.
Should you make a Sure Bet?
We can certainly see the appeal of arbing, I mean nobody like a losing bet, right? But in all honesty, unless you can afford to bet like Floyd Mayweather, then it just isn't worth it in our opinion.
Chances your accounts will constantly be under review and eventually closed. As most major gambling sites communicate with each other to meet the requirements of self-exclusion, you are likely to find that opening an account at a new bookmaker becomes difficult.
Eventually you will have exhausted all the options placing sure bets online, so even if you wanted to make a regular bet, you won't have any accounts left to do so. Obviously you don't have to take this advice, as the main point of this guide is to educate people in the process and highlight the risks.
At the end of the day the choice is yours, we just hope we have provided you with the relevant information to make an informed decision. If you still have some unanswered questions then this Wikipedia article help fill in the gaps. Whatever you decide, good luck with your bets and remember to gamble responsibly.