Ad Disclaimer
Ad Disclaimer!
COBS is an affiliation website. We help you find gambling sites where you can play with real money.
Many or all of the products and brands featured here are from our partners who compensate us. This may influence how the product or brand appears on a page. However, this does not influence our evaluations. Our opinions are our own.
The information on this page, including operator and game details, is updated regularly but subject to change.
We're sure you've seen the draw no bet option available when checking odds on a match. If it's not necessarily a market you bet on, then you'd be forgiven for having a few questions. As well as fully explaining what it is, we will also be providing information on what we feel are the best draw no bet betting sites; for those of you who are just quickly searching for a new bookmaker to place your favourite bet.
What Does Draw No Bet Mean?
This may not come as a shock but the Draw No Bet meaning is pretty self-explanatory. It works by simply removing the option of a draw from the usual Win Draw Win market. Thereby allowing bettors to back either a home or away team, with the risk a draw gone. Meaning the draw no bet betting market is geared towards the more risk averse customer, as it reduces the traditional three-way bet to a low margin two-way market. It's worth noting that this shouldn't be confused with a double chance bet.
What is a Draw no Bet?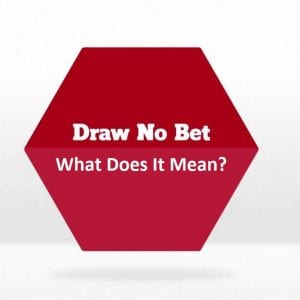 As stated above, the option of a draw is completely removed, but what does this actually mean for the bet itself?
If you were to back Liverpool to beat Man City but the game finishes in a draw, you would lose your bet. However, if you would have backed Liverpool in the draw no bet market you would receive your stake back. If Liverpool were to win the game, you would win the bet; albeit at slightly smaller odds. Obviously if Man City were to win, you would lose in both scenarios.
Due to the nature of this bet, it's not really suited to cash out betting unless used in an accumulator. But the lower profit margin is perfect for Sure Bets.
Benefits of DNB Betting
The majority of statisticians and betting tipsters often overlook the draw result when making their predictions; when in fact a draw is more common place than you would imagine. It has actually made up an average of 25% results in the Premier League in recent years.
When you factor in that large percentage, it's clear to see that there are beneficial elements to bet. For example, if you were to back an outsider at higher odds, you have the added security of receiving your cash back; meaning you can take a little more risk in the search for bigger possible returns. Similarly, if a draw is a strong possibility you can protect your less likely home or away win bet.
Best Draw No Bet Bookmakers
You can find the Draw No Bet market at most reputable bookmakers. For ease of use, we have listed our favourite bookies below;
However, if you don't fancy any of these betting sites and your personal favourite doesn't offer DNB, we do have some good news. Using 1X2 odds there is a way to create your own Draw No Bet, meaning every bookmaker is potentially in play.
Creating your own Draw No Bet odds
When it comes to creating your own DNB, there is a little math involved. But don't let that deter you. To calculate the odds available you need combine the odds on the full time result market; ensuring you have the odds displayed as decimal and not fractional.
What are the Odds?
Calculating the odds works placing bets on either a home win and a draw or away win and a draw. To work out the true odds simply divide one by the draw odds, then subtract that number from 1 and times the result by the home/away win odds; we tend to round up the first number by two places. An example of this is;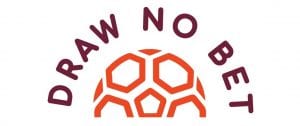 Man City (3.6) v Liverpool (1.91): Draw (3.75)
Man City DNB: (1 – (1/3.75) *3.6 = 2.64
Liverpool DNB: (1 – (1/3.75) * 1.91 = 1.40
What is the Stake?
So now you know how to work out the odds, how do you decide what stakes to place on each outcome? This will again require your calculator.
Let's say you usually stake £20 on a Draw No Bet, you'll need to split that between a draw bet and a home/away bet. Firstly the draw stake needs to be worked out by simply dividing your total stake (£20) by the draw odds (3.75). The result of that calculation (£5.33) is placed on a draw, with the remaining amount (£14.66) placed on a home/away win. So a Liverpool draw no bet would be as follows;
Total stake: £20
Liverpool Win: £14.66 x 1.91 = £28
Draw: £5.33 x 3.75 = £19.99
Man City: £14.66 x 2.64 = £38.70
As you can see, there is a decent profit available on the win markets; whereas a draw will pretty much return your total stakes. All that's left to do know is for you to compare the returns against a Draw No Bet for the same game. Whichever offers the best potential profit would be the way to go.
Placing Your Bet
Now you understand the Draw No Bet meaning, as well as being able to calculate your own odds; you are now in a better position to decide which route to take when placing your bet. If you feel the difference is negligible, then just placing your money on the predetermined odds is most likely your best option. Especially if you still don't understand the math involved, or simply can't be bothered working it out.