Ad Disclaimer
Ad Disclaimer!
COBS is an affiliation website. We help you find gambling sites where you can play with real money.
Many or all of the products and brands featured here are from our partners who compensate us. This may influence how the product or brand appears on a page. However, this does not influence our evaluations. Our opinions are our own.
The information on this page, including operator and game details, is updated regularly but subject to change.
Paddy Power PP Onside is just the latest in a long line of innovative incarnations from the marketing geniuses at Paddy Power. They are synonymous with quirky and effective apps and products that keep customers engaged, whilst improving their betting experience.
Paddy Power track my bet is a simple idea but does the PP Onside app live up to their stellar reputation for ingenuity? and is it better than the Coral Bet Tracker App?
Paddy Power Track My Bet
In recent times most punters have preferred to place their bets using the main Paddy Power app, mainly due to power prices and the ability to use the Paddy Power cash out option.
But if you are a creature of habit and like to put a bet on at your local betting shop on a Saturday morning walk; then we have some great news for you.
With PP Onside, Paddy has made sure that high street customers don't miss out on the many advantages of betting online. So you can have the best of both worlds.
What is PP Onside?
As you have probably already figured out, the Paddy Power Onside App is a bet tracking app; but it's completely separate from their betting app. It gives you the option to monitor all your in-store bets from your mobile, with the added bonus of being able to modify them or even cash them out.
You also have the option to live stream games and receive rewards and loyalty bonuses, as well as connect to other paddy powers apps; such as their rewards club and the Paddy Power Cash Card PPlus. So it's kind of like a one stop after you've placed your bets, but what are the pros and cons?
Benefits of Paddy Power Onside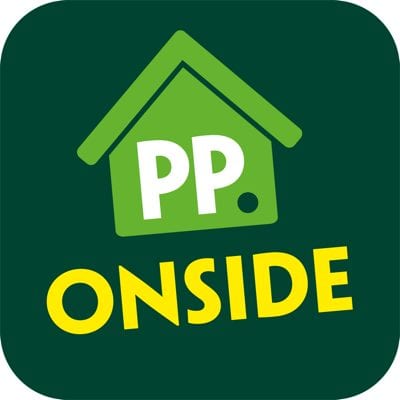 Like with all new mobile apps, the paddy power onside app was created for convenience, so it does have some handy benefits for its users.
Having PP Onside on your mobile gives you the ability to;
Never miss out on another cash out opportunity.
Track your bet anytime and anywhere.
Get live updates on all sporting events with video and live commentary.
Using Paddy Power track my bet to keep a close eye on your Win Draw Win Acca, is a huge advantage. The ability to close your bet early can significantly help reduce any potential losses, although this should not be confused with Paddy Power early payout.
It doesn't even matter what bet you want to track, the PP Onside app will let you scan as many bets as you want. Whether that be football, horse racing or tennis, as well singles and accumulators; even if they are on the same betting slip.
If you also have the Paddy Rewards app on your phone, they will sync to each other. Then any bets that you scan with PP Onside will automatically be added to the Paddy Power Rewards Club. Once you have accumulated five bets, you will then receive your free reward bet.
Downside of PaddyPower Onside
As much as every online betting app has its benefits, there is always a downside; which could be a deal breaker with PP Onside.
A lot of the feedback from gamblers wasn't too good when we were carrying out our research, and it all revolved around one particular issue. So this made us even more determined to download the PaddyPower Onside app and give it a good trial ourselves. Unfortunately it really was lacking in one key issue.
After using the app it quickly became apparent that it wasn't going to suit people who prefer cash out betting sites. All of the complaints we'd read were unfortunately well deserved, as the function to close your bet early was very lacking; reducing the ability to make an instant withdrawal from your account.
Paddy Power Track My Bet really struggles with real time pricing for ending a bet for a quick profit. Given that this function works perfectly when betting online or with your mobile, we can only presume that there is an issue with the PP Onside app communicating with other Paddy Power applications and software; as this is where it would pull that information from.
It's such a shame that a key feature doesn't function so well, which distracts from the other benefits. But given Paddy Powers history when it comes to technology and breaking molds, we can only hope it is a short term issue; it may actually already be fixed by the time you're reading this.
How to Track my Bet with Paddy Power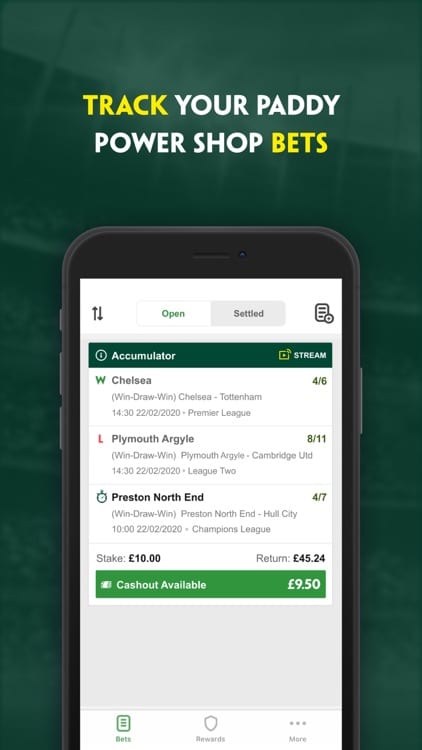 It would be remise of us to presume the flaws of cashing out would put everyone off using the PP Onside app, as not everyone wants that option. If that's the case for you then it's still a really hand tool to have on your phone. So how do you use it?
Obviously you will need a Paddy account and access to the App Store or Google Play Store for your Apple or Android device. From there simply search for the Paddy Power Onside App, download and install it on your device.
Once this has been done, you can then sync the app with their other products as well as your account. Tracking your bet is then really easy, after visiting your local betting shop just follow these simple steps;
Open the PP Onside App
Select barcode scanner
Scan the barcode on your betting slip
Your bet will then appear in my bets
Using Paddy Power Track My Bet really is just that simple, plus you can also scan multiple tickets; as well as track your previous bets if you like to monitor your betting history.
Summary of PP Onside
Taking in to account their history with mobile applications, the Paddy Power Onside app had huge potential. It aspires to bring the two realms of online and High Street betting together, in an attempt to improve their customer base along with some of the best betting offers for new customers.
Unfortunately it just misses the target for us, due to the lackluster cash out function. However, as we said earlier, if that isn't a focus or important aspect for you then it's definitely worth considering. But in all honesty we much prefer products offered by other bookies such as the Coral connect card and app.