Ad Disclaimer
Ad Disclaimer!
COBS is an affiliation website. We help you find gambling sites where you can play with real money.
Many or all of the products and brands featured here are from our partners who compensate us. This may influence how the product or brand appears on a page. However, this does not influence our evaluations. Our opinions are our own.
The information on this page, including operator and game details, is updated regularly but subject to change.
Paddy Power are leaders in innovation when it comes to gambling online, which is why they are so popular. So it came as no surprise when they released their revolutionary Paddy Power Cash Card PPlus.
Although Paddy isn't always necessarily the best when it comes to odds, which is why they are no longer one of our preferred cash out betting sites; their quirky bonuses and promos sometimes put them ahead of the competition. But how does their Cash Card PPlus stack up against other payment methods?
What is the Cash Card PPlus from Paddy Power?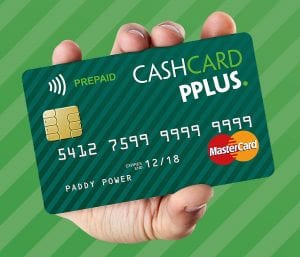 Feeling like there was a gap in the market for customers who wanted easier access their winnings, they had a Eureka moment. What if players could get instant direct access to their online wallet?
Well that's where the Cash Card PPlus comes in to play, giving account holders unprecedented access to the cash in their online gambling account. It's also the perfect partner for the new PP Onside App. But as this is Paddy Power were talking about, they've added a little twist by offering two cards.
Standard Paddy Power Card
To put it simply, the paddy Power card is like a real life physical version of your online wallet.
You can not only use it to add funds or withdraw winnings from your online account, you can also place bets in your local betting shop; the amount will instantly be deducted from your balance.
As the Cash Card from Paddy Power is linked to your account, instant access to your winnings is guaranteed. As soon as your bet has won or if you have used Paddy Power cash out, simply walk over to your bookmaker. Hand over your card and say "cash please", Paddy staff will then give you your money. There is also the option to use the card to play any instore fixed odds betting terminals.
Paddy's Cash Card PPlus
The Cash Cards PPlus from Paddy Power is similar to the standard card, but with two slight differences. One we is a huge benefit, but the other may just put people of choosing this card and opt for the standard one instead.
You can use the card to withdraw and add funds to your account, as with the standard one, but you can't place bets at the shop; or use it on fixed odds betting terminals.
Where the PPlus card stands out, when compared to the Coral Connect Card and William Hill Plus Card; is what you can do with it! This card is actually powered by MasterCard, which actually opens up a world of opportunities.
The partnering with MasterCard means that you can use Paddy Power PPlus Card just like a debit card. If you have cash in your account, you can withdraw it at any ATM or pay for goods and services and any shop or restaurant.
Which Paddy Power Card should you choose?
In all honesty we can't actually advise you which you should pick, as it all depends on what you personally want from the card.
One is simply used for betting purposes and the other is more of an everyday card. So if you want to spoil a loved one with your winnings, select the PPlus card. If you just want access to your cash as well as place bets at your local betting shop, select the standard one.
Paddy Power Cash Card PPlus Limits
There is one more thing that should be considered before applying for your PPlus Card. Unlike a debit card, there are some limitations on what you can spend; even if you have the money in the account.
But this isn't necessarily a deterrent in our eyes, in fact we feel it helps to promote responsible gambling. The limits of the PPlus card are detailed below;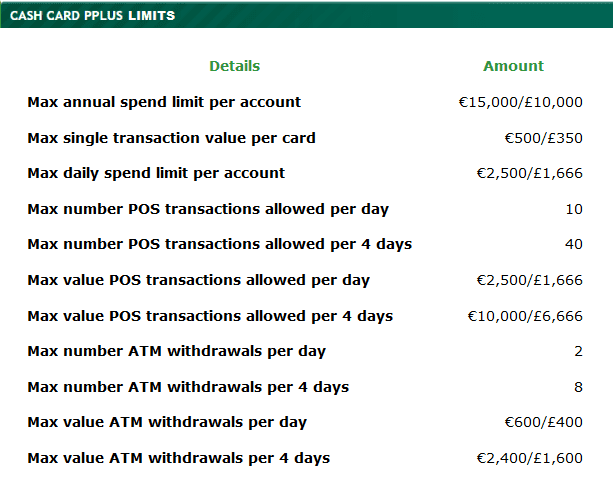 Is the PPlus Card worthwhile?
For us they have been a great addition to our online wallet and the wallet in our pocket; they work well with Paddy Power Hotshot Jackpot. In all honesty, the two cards should have been combined; but just wouldn't be Paddy would it?
So depending on where you live, you may want to apply for the Paddy Power PPlus and standard cash card. We don't have access to a local Paddy Power bookmakers so there was no point in applying for the standard card. But if you have one down the road or not, then you should at least apply for the PPlus card.
You can really maximise the benefits of the Paddy Power card, by using other payment methods; such as PayPal, Neteller and Boku Betting.
On serious note, although you have easier access to your account funds, neither of these cards should be used as a means to try supplement your income; by increasing your usual betting activity. They are merely meant to provide greater flexibility when it comes to placing bets or spending any winnings.
To apply for your card, simply head over to the Paddy Power website and complete the simple application form.