Ad Disclaimer
Ad Disclaimer!
COBS is an affiliation website. We help you find gambling sites where you can play with real money.
Many or all of the products and brands featured here are from our partners who compensate us. This may influence how the product or brand appears on a page. However, this does not influence our evaluations. Our opinions are our own.
The information on this page, including operator and game details, is updated regularly but subject to change.
PayPal is an electronic wallet that allows you to transfer funds to and from your bank account; via your online wallet. They are used by millions of online commerce sites, due to the ease and security of making payments; but have recently been adopted by various gambling sites. As such there has been a surge in the number of PayPal betting sites; including some big bookmakers like bet365 and Betfair.
Customers can now make deposits, or withdraw any winnings, from online betting sites that accept PayPal. Any Profits can then be transferred from your e-wallet directly to your bank.
Best PayPal Betting Sites
Seeing these PayPal bookies in our top 5 probably won't come as much of a surprise. There are some new betting sites as well, as other well-known bookmakers who accept PayPal; but these five just happen to offer everything we're looking for from an online betting site. Although a full list of online bookmakers that use PayPal can be found further down the page.
Not only do they accept the world's most popular digital payment method, but they also offer some of the best odds in the business. As well generous new and existing customer bonuses, enhanced odds and even extended places for each way bets. Some also happen to be in our list of best betting sites that offer cash out.
Why use PayPal Betting Sites?
This is a common question we're asked and a fairly easy one to answer, its ease and security! Sorry, did you want a more elaborate answer? OK here goes!
By transferring cash directly from your bank account, a deposit can be made without having to input any debit card details. Using PayPal, your money can then be paid to any of the UK online bookmakers featured here; meaning it's now much easier to manage your betting account. PayPal also offer the ability to bet using prepaid cards for even more security.
There are several advantages to using this type of digital payment for depositing. In our experience with the likes of bet365, transferred funds tend to clear and become accessible a lot quicker; often in a matter of minutes when using PayPal rather than standard banking methods.
However, the standard banking time of up to 25 hours will still be required for processing any withdrawals from PayPal betting sites; which is handy if you're looking for betting sites with fast withdrawals. But we find this an acceptable consequence, especially when taking the additional security provided in to account; by not needing to repeatedly provide bank or card details at several UK bookies.
bet365 also happen to one of our preferred GPAY betting sites, but as that is a deposit only digital wallet, PayPal can be used in conjunction to withdraw your winnings.
Managing your Cash for PayPal Betting

It's the flexibility offered by PayPal betting sites that ultimately wins us over. Being able to clearly see what deposits and withdrawals have been made, it is far easier to manage your betting funds; as transactions aren't buried among everyday household costs like they are on a bank statement. There's also the option to take small profits out and let them sit in your e-wallet. This helps you gamble responsibly, as you can let the funds build up to a nice pay day; rather than just gamble them away and risk chasing your losses.
There are also a handful of UK bookmakers that offer a quicker registration process when using PayPal. This allows you to open a new account at betting sites who accept PayPal, make a deposit and get betting in a matter of minutes. If the new bookmaker also offers a welcome bonus as part of your first deposit, you also have quicker access to those funds.
UK Online Betting with PayPal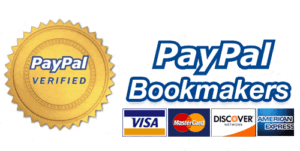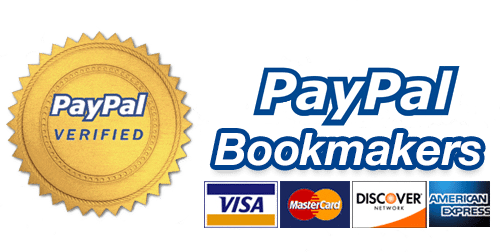 Until recently, customers couldn't use PayPal to make deposits at online betting and gambling sites in the UK. It's still not possible in countries like America and Canada; where online gambling isn't fully regulated or is completely banned. But the introduction of the UK Gambling commission, as well as similar regulatory bodies in other European countries, has led to increased trust from the online payment provider.
Of course not all bookmakers offer it when making deposits, so we have provided a list of betting sites that accept PayPal. Starting with the top 5 above, followed by the sites we've found below.
Most people tend to have a PayPal account, especially if you have previously used eBay. But for new accounts, you will be required to complete a full application process; in order to ad funds to a betting account. This helps to reduce the risk of fraud, as well as any potential abuse of a bookmakers welcome bonus. Although some bookmakers exclude this eWallet from their introductory betting site offers entirely, preferring Skrill or Neteller.
How to use PayPal Bookies
Believe it or not, you can make a deposit regardless of whether you have funds in your PayPal account. The amount will be charged to your current account or debit card, if your eWallet is empty.
To do this, simply visit the banking section of your online bookmaker; selecting PayPal as your deposit option once there. Providing the name on your account matches the name registered with your bookie, you should be able to make a deposit. Simply choose the amount you wish to add to your betting account and click confirm. You will then be redirected to PayPal's pop up payment portal, where you will need to log in then confirm the amount you wish to charge; as well as which bank/debit card you to make the payment from.
Once this is complete, your funds should be available almost instantly, allowing you to continue placing your bets.
Setting up a New PayPal Account
If you're one of the few people who don't have a PayPal account, then opening one is quite easy. As we mentioned earlier, it can take a few days to process and verify your details; so we would strongly recommend doing it well in advance of selecting a new betting site. To add bank details to a new account, PayPal will need to ensure the details provided belong to you. So a small payment will be paid to your bank with a unique payment reference, the amount and reference will need to be confirmed in your online PP account. Once this process has been completed, deposits can be made in to your betting account.
Admittedly the process can sound a little long winded, but it is definitely worth it. Once you have your new digital wallet, you're then able to take better control of what you spend on betting. Keeping card details up to date is also much easier, simply update these in your PayPal account and you can deposit anywhere; rather than having to update them at all your registered betting sites.
Quicker Registration at Bookmakers using PayPal

As we mentioned earlier, some bookmakers that accept PayPal use it to offer expedited registration; meaning you can get started with your bets in a matter of minutes. Part of speeding up the process of opening a new account, bookmakers will ask PayPal for your name, address and date of birth; which just goes to show how much the eWallet is trusted. As well as registering at a betting site, you are also setting up a verified payment method; which is one of the reasons the process is so quick.
Are PayPal Fees Applied to Deposits?

PayPal do charge fees for adding funds to your wallet, or sending money to family and friends; the amount is dependent upon the method used. Cash added from a bank account will not incur fees, but debit cards will incur a small percentage fee.
The great news is, most PayPal betting sites do not charge a fee for making deposits; or withdrawing funds. The reason being, they know it can deter potential customers from opening an account. Instead, the bookmaker chooses to be liable for all transaction fee. It's worth noting though that not all bookies cover these charges, so make sure you check before depositing.
List of Popular Betting Sites That Accept PayPal
Secure Banking
We've touched on this throughout the article, but it's by far one of the safest ways to make deposits. By just adding your details to one online wallet, you're not passing your financial details to several companies. This helps to reduce the risk of fraud or someone stealing your details if there is a data breach.
There is also the option to set up two factor authentication on your account, which is another level of security you won't have when just providing card details to a bookmaker.
If secure Banking is one of the main reasons you choose a bookmaker, then you may be interested in these phone bill betting sites, the new William Hill Plus Card or the Connect Card from Coral.
What Countries Offer PayPal Betting
You may recall we touched on the subject of countries that allow gambling with PayPal earlier. Despite being one of the biggest gambling countries in the world, you cannot gamble online in the USA. But there are still plenty of countries that allow PayPal gambling as listed below
UK
Austria
Belgium
Denmark
Finland
France
Greece
Ireland
Italy
Portugal
Spain
Sweden
It's probably occurred to you that all of the above countries are European, mainly because they make up the majority of gambling nations. If you happen to be from one not listed, we suggest checking directly with PayPal.com.
Alternatives to PayPal

If you are not convinced by PayPal betting, it's not accepted in your country or the betting sites accepting it don't appeal to you, then you may be looking for an alternative depositing method. Below is a list of payment methods that are accepted in the UK and other territories.
The above payment options are among the most popular after bank transfers and debit cards. They also don't have the long processing times like standard banking. So feel free to see if any of these align with your preferences.
Some bookmakers have also taken to creating their own payment options, which come with extra benefits. These include;
The only issue with using the above is pretty obvious, you have to have an account and they can only be used at those bookies.
We'd be surprised if none of these PayPal betting sites fit your needs, but if that's the case, we hope we have at least reaffirmed that you're using the best deposit method. Alternative if you find a better PayPal bookmaker, feel free to let us know via our Facebook or Twitter pages.