Ad Disclaimer
Ad Disclaimer!
COBS is an affiliation website. We help you find gambling sites where you can play with real money.
Many or all of the products and brands featured here are from our partners who compensate us. This may influence how the product or brand appears on a page. However, this does not influence our evaluations. Our opinions are our own.
The information on this page, including operator and game details, is updated regularly but subject to change.
It's not often that a new and useful betting payment method comes along, and when they do it's rare they grab our attention like AstroPay betting sites. A relatively unknown banking option, AstroPay shot to prominence thanks to their sponsorship deal with Wolverhampton Wanderers.
This partnership led us to wonder, are there betting sites that accept AstroPay? And if there are, which AstroPay accepted betting sites are the best?
In this guide we will answer those questions and more as we delve in to this new payment option. From how and where to use it, to the pros and cons betting with AstroPay, we'll also offer up some very worthy alternative deposit options.
Best Betting Sites Accepting AstroPay?
To begin with we thought we would start with the most pressing question, which is probably also the reason you are here.
As this is a fairly new betting site deposit method. There aren't actually many bookmakers that offer it. Luckily for you though, we have put together a list of the best AstroPay betting sites from those that do.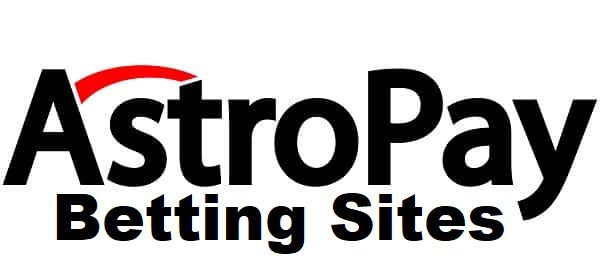 We've opted for five astro pay betting sites, and as you can see, some of these are well known brands. There were obviously others we could have chosen, but most are relatively new or not as trustworthy.
What is AstroPay?
Ok so we have covered the AstroPay betting sites for those looking for a quick hit. But if you're here because you've seen AstroPay mentioned in football and betting circles and are intrigued as to what it is and how it works, then this next section is for you.
AstroPay launched in 2009 in the Brazilian market, and since then, it has expanded its services to other countries in Latin America, Asia, and Africa. Eventually landing in the UK.
As a global online and physical wallet, AstroPay provides users with a way to pay, send, and receive money. You either load up betting prepaid card at an approved vendor or utilise the AstroPay app for online payments and money transfers.
The app offers more than 200 payment methods to fund your AstroPay betting and as of 2023, features include loyalty programmes, debit cards and crypto offerings.
How AstroPay Works
AstroPay is actually one of a few prepaid cards for betting sites that can be used virtually and physically. You load money onto the card and then use it like a normal debit card, so it will have its own balance.
This card can be used in most places, including AstroPay betting sites, making it incredibly convenient compared to some other banking options. But before heading to bet using AstroPay at bookmakers, you'll need to know exactly how to use it.
The obvious and first step is to head over to astropay.com where you can create your account and apply for your AstroPay card. Once your new account has been verified you can begin to buy prepay cards in either set amounts such as €15, €25 or €100, or you can specify an amount yourself.
Next you select how you are going pay for your AstroPay card, a vast number of options are available including Neteller and GPay. The only thing to bear in mind is that payment options vary depending on the territory you are visiting from.
The prepaid card is virtual so you will receive it either by email or the AstroPay app. However, as it acts exactly like a debit card there will be a 16 digit number and the usual cvv code. You will need these details to make payments at any of our betting sites that accept AstroPay.
Deposit Using AstroPay Betting Sites
Now you know how to buy your card, you'll be keen to learn how to deposit its value at an AstroPay betting site. Well you'll be pleased to know that is just as quick and simple as your card purchase.
Once you have selected a bookmaker that accepts AstroPay, or ascertained if your existing bookie accepts them, just head over to their banking section.
Select AstroPay as your depositing method then enter the amount you wish to deposit, you will then need to input the 16 digit AstroPay card number followed by the CVV code. Once this has been done and the payment verified, the funds will appear in your betting wallet.
Now you have your funds in your bookies account, you are ready to place a bet using AstroPay funds. I'm presuming we don't need to talk you through that bit though.
Making a Withdrawal at AstroPay Bookmakers
Sadly just like with bet using phone bill sites, making a withdrawal at AstroPay betting sites is limited and it has its drawbacks. Bookies that give you the chance of a payout, do so by sending you a credited AstroPay card for the amount you choose to withdraw.
But sadly in most cases this isn't available or ideal, so we always recommend having a backup payment option for making withdrawals. The most popular options tend to be ones like PayPal, Neteller or bank transfer, but make sure you take in to account any fees that may be applied, you can find out more info in our guide to fast withdrawal betting sites We need to point out that this may come with extra fees depending on the payout method.
Benefits and Drawbacks of AstroPay Betting Sites
Just like any payment method, AstroPay has its pros and cons. Quite often these can be make or break for most punters considering using an AstroPay betting site. But will they deter you or convince you to use it?
Advantages
If you are considering betting using AstroPay then you can do much worse than the betting sites we've recommended above. But before you do, you'll be keen to know what the advantages are.
As AstroPay betting deposits are based around prepaid cards, the biggest benefit of using it is security. There is no need to provide the gambling company with any bank details when making a deposit, as all they require are the 16 digit number and cvv of the prepaid card.
Another security aspect of betting sites accepting AstroPay lies in the card itself. Because of how the system works you can't add more funds to an existing card. This make them a one time use, unless you've purchased a high value card to make several deposits over period of time.
This fact that they are not reusable also means that if the card details are ever compromised by hackers, they will only ever get the value of the card and not drain your back. So generally, AstroPay betting is perfect for people who value their privacy.
Disadvantages
While using AstroPay betting sites has its advantages, there was only one disadvantage we could find when using the prepaid cards at online bookmakers. Sadly you are unable to withdraw funds to an existing AstroPay card.
Most bookies don't allow you to take your winnings using your AstroPay card. Although small handful will issue you a new card to the amount of your withdrawal. But the problem with that is the winnings can only be spent at retailers who accept AstroPay, or be deposited back in to your betting wallet at a later date.
As we mentioned earlier, your best bet is to use an alternative banking method to make a withdrawal.
AstroPay Betting Deposit Alternatives
If you are not convinced by AstroPay betting, you can't use it in your country, or those accepting it don't appeal to you, then you may be looking for an alternative depositing method. Below is a list of varying payment methods that are accepted in the UK and other territories.
The above payment options are among the most popular after bank transfers and debit cards. They also don't have long the long processing times like standard banking. So feel free to see if any of these align with your preferences.
Some bookmakers have also taken to creating their own payment options, which come with extra benefits. These include;
The only issue with using the above is pretty obvious, you have to have an account and they can only be used at those bookies.
Summary of Betting Sites that Accept AstroPay

Although AstroPay has been around since 2009, it is still a relative new comer in gambling circles. There are not many AstroPay betting sites around but that's definitely changing, and you shouldn't let it deter you.
We like the added security and extra anonymity this payment method offers, as well as being able to responsibly manage your money with smaller deposit amounts. So this payment option is definitely a winner for us and we highly recommend you give it a try.