Ad Disclaimer
Ad Disclaimer!
COBS is an affiliation website. We help you find gambling sites where you can play with real money.
Many or all of the products and brands featured here are from our partners who compensate us. This may influence how the product or brand appears on a page. However, this does not influence our evaluations. Our opinions are our own.
The information on this page, including operator and game details, is updated regularly but subject to change.
When it comes to shopping, gaming and streaming, it seems there are plenty of prepaid card options, but are there any betting sites that accept prepaid cards? The good news is that there are some out there, and we'll not only list the best prepaid card betting site, we'll also tell you how they work and their benefits.
Although betting using prepaid cards is a relatively new feature at online bookmakers, the big names that have jumped on it are quite surprising. Usually they like to see how new payment methods play out at smaller sites like Britain Bet, but they seem confident that prepaid card betting is going to be big.
How to Bet Using Prepaid Cards
Before we dive in to betting sites that accept prepaid cards, we thought we would cover how you actually use them. This is mainly for the new bettors that have never used these cards before, so they can see if it is a payment method that suits them.
Buying a Prepaid Card for Sports Betting
When it comes to buying a prepaid card there are plenty of options. But before you run in to your local Tesco looking for one, the most commonly accepted prepaid cards at bookmakers are online. Below you will find the main places you can buy one.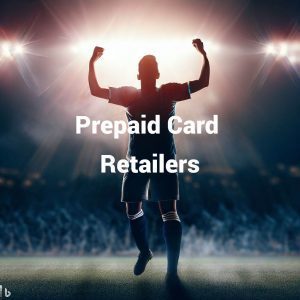 Of those listed above we highly recommend using Neteller.com, as they are the most widely accepted. They also cover more territories than their competitors and make withdrawing your winnings much quicker and easier. You can also click the links in the list to learn more about betting with those payment methods.
To purchase a card, simply visit your preferred retailer and select purchase prepaid card. You can usually opt to do this as a guest or logged in return customer. Selecting the value of the card comes next, followed by entering payment details.
Once the purchase has been confirmed on the screen, a confirmation email will be sent containing the details of the prepaid card that you can use at betting sites.
Types of Prepaid Card for Betting
As well as there being several options for where you can buy a card, there are also different types of prepaid cards that can be used for betting online.
Virtual Prepaid Cards
This may not come as a surprise, but Virtual cards are the most common prepaid cards purchased for using at bookmakers. The main reason being the simplicity of keeping everything online, there's also the fact you can buy set amounts for single use; so ensuring you gamble responsibly.
Reusable Prepaid Cards
Reusable cards tend to be a physical card as opposed virtual ones. You can keep these in your wallet or phone case and top them up with cash at your local shop or online. You can then use that money to deposit at betting sites.
Some bookmakers have actually taken to creating their own prepaid cards, which you can top up at their High St branch to make your online bets. We cover those bookies later on.
Prepaid Gift Cards
Gift cards, as you would imagine, are perfect gifts for friends and family who like a little bet. You can buy them and then gift them as you wish. The recipient just needs to enter the gift card details at their betting site.
Deposit Using Prepaid Cards at Betting Sites
This probably doesn't need much explanation seasoned gamblers, but to those who are new or think it may be complicated, it's much easier than you think. Making a deposit to bet using a prepaid card is simple, quick and extremely secure.
All that is required is to visit the banking section of the chosen betting site, select make a deposit, the pick the prepaid card option. You'll then be taken to the payment screen, from here you will need to input the card number, CVV number and the amount you want to deposit.
Once the deposit has been approved, the amount should be sat in your betting wallet for you to instantly bet with.
Best Betting Sites that Accept Prepaid Cards
As we mentioned earlier, some of the biggest names in sports betting accept prepaid cards, so some of the names on our list may not come as a surprise. You can probably even use prepaid cards for betting at your current bookie.
All of the bookies below are well known for having some of the best football betting, horse racing or even greyhound betting. They're also known for great promotions, customer security, and being some of the best cash out betting sites.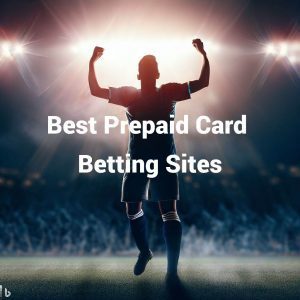 Once you have decided on your new betting site, simply follow the link provided to avail a generous welcome bonus, sign up then bet using a prepaid card.
Pros and Cons of Prepaid Card Betting
Every payment method available at betting sites has its benefits and downsides, sadly prepaid cards are no different. But whether they are enough to deter you or cement your decision to use them will be a personal choice, so let's explore them in a little more detail.
The biggest draw for using prepaid cards come in the form of security. To make a prepaid card payment at the betting site, there is no need to divulge your bank details, so all your financial details remain secure. As prepaid cards are predominantly single use, you also have the added security that if the card details were intercepted, only the amount uploaded is at risk.
As they work in a similar way to debit cards and the deposit amount is guaranteed to be available, a deposit is instant. Some bookmakers also allow you to make a low minimum deposit when using prepaid card betting.
These are just a few of the main positives, but sadly we did find one minor drawback, although we don't believe it will deter you. Sadly betting sites that accept prepaid cards for deposits don't allow you to make withdrawals, the same as sites that let you bet using phone bill. So if you hit a big win and want to claim your winnings, then we recommend using one of these betting site fast withdrawal options.
Prepaid Card Betting Alternatives
If not being able to make withdrawals puts you off, you can't use them in your country, or the betting sites that accept prepaid cards don't appeal to you, then you may be looking for an alternative depositing method. Below is a list of alternative payment methods that are accepted in the UK and other territories.
The above payment options are among the most popular at betting sites. They also don't have long the long processing times that standard banking options require. So feel free to see if any of these align with your preferences.
Some bookmakers have also taken to creating their own payment options, which come with extra benefits. These include;
The only issue with using the above is pretty obvious, you have to have an account and they can only be used at those bookies.
Summary of Prepaid Card Betting
Although prepaid cards have been around for quite some time for online shopping, they are still a relatively new trend for betting sites. There are not many sites that accept prepaid cards, but as you can see, those that do are some of the biggest brands in the business.
We like the fact that you can opt for set denominations when buying prepaid cards, as it helps when gambling responsibly. There's also the fact that there is added security and extra anonymity that this payment method offers. So we definitely feel prepaid cards are a worthy depositing method and you should definitely consider giving them a try.